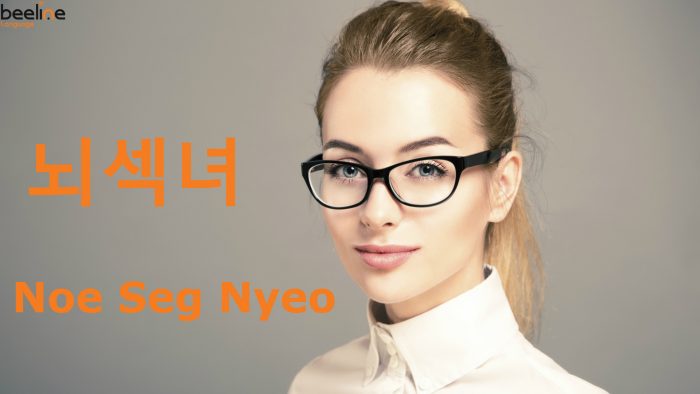 When you learn to speak and write Korean, you will find a lot of words that are just made up, and cannot be found in a regular dictionary. Beeline Language Korean will look at some of these slang words and explain to you, so you would know what these Korean words or Korean phrases mean. There are many ways to describe a beautiful Korean woman, as we have learned in our previous posting "how to say 'You're Beautiful' in Korean". Today, we will continue with learning the word 뇌색녀 [noe seg nyeo], which is a popular word describing a woman who has a sexy brain in Korean.
What is Noe Seg Nyeo -Sexy Brain in Korean – and How Was it Created? 
뇌섹녀 [noe seg nyeo] literally means 뇌가 섹시한 여자 [noe-ga sexy-han -yeoja] and this is translated in English, as a lady who has a sexy brain in Korean.
Well, as you could figure it out, there is no such thing as 'sexy brain' but this is implied that more and more Korean men like to find intelligent Korean women attractive. This is the modern society movement as more and more women are highly educated and becoming more powerful in Korean economy.
Sample Sentences Using Noe Seg Nyeo
수진아 너는 되게 똑똑하면서도 이쁘다 완전 뇌섹녀네! [soojin-ah neo-neun doe-ge ddokddok-ha-myun-seo-do ee-bbeu-da. Wan-jeon noe weg-nyeo-ne]
Soojin, you are very intelligent and pretty, you are a complete noe seg nyeo!
나의 올해의 목표는 뇌섹녀가 될수 있게 공부를 열심히 하는것. [na-eui ol-he-ui mok-pyo-neun noe-seg-nyeo-ga dwel-soo-it-gge gongboo-reul yeolshim-hee ha-neun-gut]
My goal for this year is to study hard so I could become noe seg nyeo.
When to Avoid Using the Term Noe Seg Nyeo
Although 뇌섹녀 is a common term that is used on TV, it is completely inappropriate to use that term in formal settings. Refrain from using it to co-workers because they might take it the wrong way and file a sexual harassment suit against you. Calling someone sexy should always be carefully considered before being used as a compliment, as the recipient of the compliment will not perceive it that way.
Now you know how to say sexy brain in Korean, you will know the next time Korean variety refers to this word!