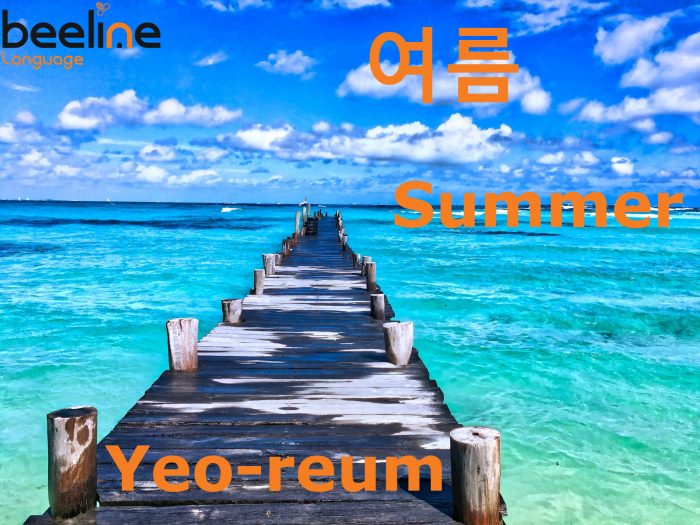 Beeline Language Korean is all about learning the Korean language and culture. Did you know that Koreans are having a record hot summer in the year of 2018? The temperature is well over 30 degrees Celsius, which can be extremely hot with humidity. 솔까말, if you are not used to the extreme heat conditions, this could be a 멘붕 situation for some. However, the summer season in Korea is still very beautiful. Today, you will get to learn how to say Summer in Korean.
How to say

Summer in Korean
This is how to say Summer in Korean: 여름 [yeo-reum]
Sample Sentences Using Summer in Korean
이번 여름에는 비치에 가서 파도랑 같이 놀고싶어. [ee-beon yeo-reum-ae-nuen bee-chee-ae ga-suh pa-doh-rang ga-chi nol-go-si-ppo].
This summer, I would like to go to a beach and play with waves.
여름방학 동안에는 밖에서 뛰어 놀 수 있어서 너무 좋아. [Yeo-reum bang-hak dong-ahn-ae-neun ba-kke-seo ddiu-eo-nol-soo-ee-sseo-suh neo-moo jo-ah].
During the summer break, It is so good that I can play and run outside.
Note that 여름 방학 was used to describe 'summer break' from school
How Do We Say Summer Vacation in Korean?
If 여름 is how to say summer in Korean, how about summer vacation? Korean people are usually very hard-working people and they do not have set vacation weeks negotiated when signing up to be an employee at a company. Most people take way less than a week average vacation a year, but they make the best out of it. Vacation from work is called 휴가 [hyoo-ga], but most people call the summer vacation 바캉스 [ba-kang-sseu] in Korean. 바캉스 is actually a word originated from an English word 'vacance', which usually means that you are vacationing somewhere to get away from the heat. Similarly, some people call the summer vacation as 여름휴가, just simply putting the word summer and vacation together.
Now you know how to say summer in Korean, please let us know about how your summer is going thus far!
Happy Studying everyone!
Related