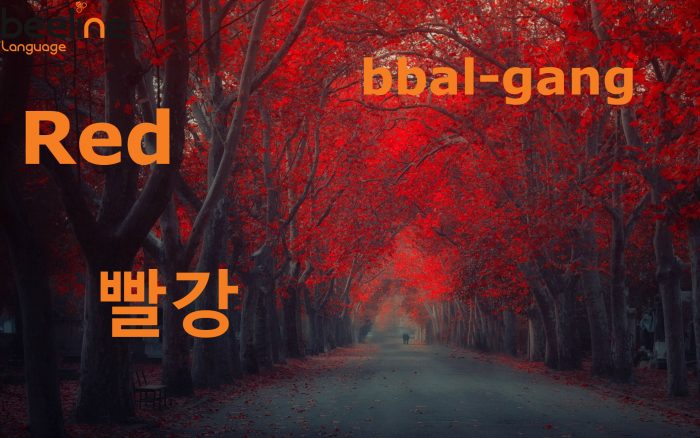 Beeline Language Korean is all about learning the Korean language and culture. In our previous lessons, we have learned many different slangs like 멘붕, 극혐 and 품절녀. Also, we have covered a lot of words that would be used by young Korean generations today. Previously, we have learned how to say culture in Korean. I have mentioned that when you are trying to acquire a new language, always try to explore their culture and traditions first. South Korea has a beautiful flag that represents the country. Have you noticed a Korean flag before? What colors do you see in the flag? Red, White, Blue and Black? Correct. Today, you will learn how to say Red in Korean.
How to say

Red in Korean
This is how to say Red in Korean: 빨강 [Bbal-Gang].
*Note that when the word 빨강 is describing another object or noun, then the word slightly changes to 빨간 [bbal-gan]. E.g. 빨간색 [bbal-gan-sek] Red Color
Sample Sentences Using Red in Korean
슬기는 빨간색 옷을 입을때가 가장 이쁜거 같애. [seulgi-neun bbal-gan-sek oat-seul eeb-eul-ttae-ga ga-jang ye-bbeun-geo ga-tte].
Seulgi looks the prettiest when she wears red colored clothes.
나는 오늘 빨간 립스틱을 바르고 싶어. [na-neun oh-neul bbal-gan lip-su-tick-eul ba-reu-go sip-peo].
I would like to wear a red lipstick today.
Trivial Thing about Writing the Names with Red
As we have learned in the previous lesson, Korean people are very keen on keeping their 문화 and 전통 alive. Also, many Korean people believe in some superstitions that are specific to the country. One trivial thing to remember is that you never ever write anyone's name, including your own, in red ink. Koreans like to think that red means blood and writing your name in blood would bring series of bad luck. Some may not be so sensitive about the issue, but it is better to be safe than sorry, because many Koreans still believe that writing someone else's name in red ink is disrespectful.
Now you know how to say Red in Korean, and know about this tradition, be sure not to write your Korean friends' names in red!
Happy Studying!