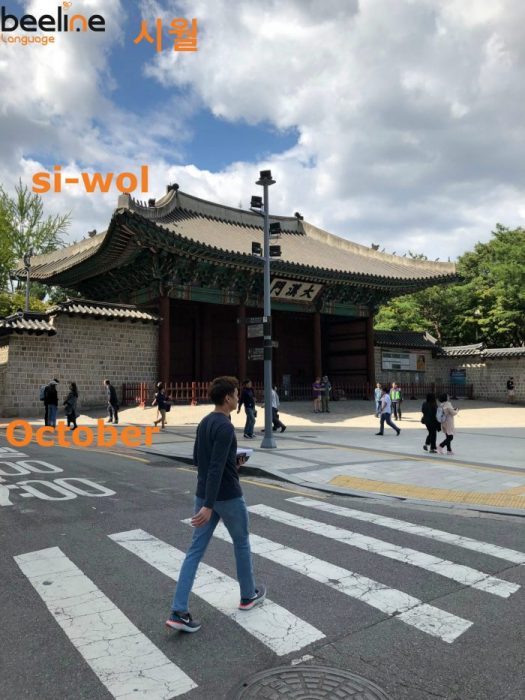 Beeline Language Korean is all about learning the Korean language and culture. In our previous lessons, we have learned many different slangs like 품절남, 멘붕 and 솔까말. Also, we have covered a lot of words that would be used by young Korean generations today. In the previous lessons, you have learned how to say different colors in Korean. You have learned how to say Yellow, Red, Blue and Orange in Korean. Earlier in our previous lesson, we have learned how to say fall in Korean. Today, we will learn how to say October in Korean.
How To Say October In Korean
This is how to say a October in Korean: 시월 [si-wol].
Note that 시 comes from 십 (seep), which means 10 in Korean. However, when it is combined with another word, the word 십 turns into 시, but the meaning stays the same.
Sample Sentences Using October in Korean
시월의 하늘은 맑고 너무 깨끗해 보여. [si-wol-eui ha-neul-eun neo-moo mal-ggo-gga-ggeut-hae bo-yeo].
The sky in October seems very clear and clean.
시월의 하늘을 보고 있으면 마음이 깨끗해 지는 느낌이야. [si-wol-eui ha-neul-eul bo-go ee-sseu-myeon ma-eum-ee ggae-ggeut-hae ji-neun neu-ggim-ee-ya].
When I am looking at the sky in October, I can feel like my soul cleansing.
Note that in some Korean sentences, it is common to omit subjects such as I and you.
What is October Like in South Korea
You have previously learned that South Korea has a beautiful fall season, and October is the prime time to enjoy your autumn leaves in sighting. Many beautiful mountains like Seoraksan in Taebaek Mountains are good place to visit in October to view different leave colors for the season. Also, Korean people have adapted to the Halloween celebration recently. On October 31st of every year, many people in the city go for trick or treating, celebrating the dead walking among us on the eventful day.
Now you know how to say October in Korean, go tell your friends what you have learned today!
Happy Studying!
Related