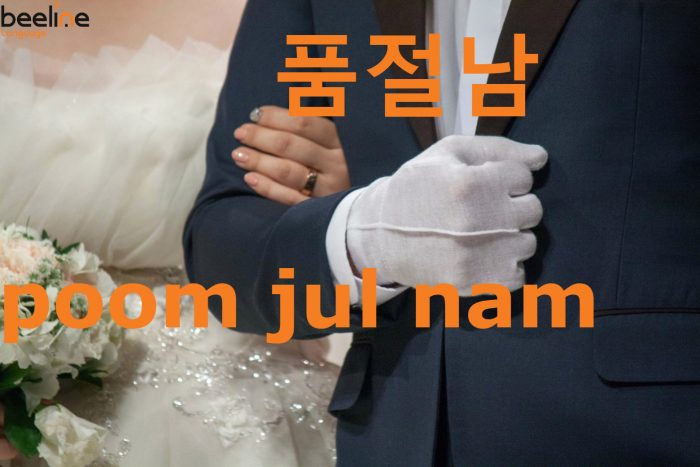 In the previous few session, we have learned interesting combination words that form specific meaning, creating popular slang words. We don't only teach you the traditional Korean alphabets and words, but we also teach you the slang words through our Beeline Language Korean blogs websites. We have learned what 싱글족 meant Korean in the previously, and today, we will learn what poom jul nam (품절남) means in Korean.
GET YOUR FREE KOREAN LESSON NOW!
How to Say a Man isn't Available

 in Korean
This is how to say 품절남: poom jul nam.
The word 품절 poom jul means 'sold out' in Korean. Usually we use 품절 to describe a merchant to be sold out. 남 nam is simply describing a man. Therefore, 품절남 means sold out man, or a man who is already taken and unavailable.
Sample Sentences Using Poom Jul Nam in Korean
우리가 어제 만났던 남자애는 품절남이야. [woo-ri-ga eo-jae man-nat-deon nam-ja-ae-neun poom-jul-nam ee-ya].
The guy we met yesterday is an unavailable man.
영수가 품절남 된지 10일정도 된거 같애. [young-soo-ga poom-jul-nam deon-jee sip-il jeong-do deon-geo-ga-tte].
It's been about 10 days, since Youngsoo has been dating someone.
Other Ways To Interpret Poom Jul Nam
As you have seen some examples above, you could interpret poom jul nam in more than one way. Although the direct translation means that it is a sold-out male, one could interpret it as the man who is taken off the market by being in a relationship. However, another might argue that 품절남 is similar enough to 완판남 [wan-pan-nam], which essentially means a man who is very marketable with products.
You have learned what poom jul nam means in Korean, go tell your friends what it means.
Happy Studying everyone!
Can't read Korean yet? Click here to learn for free in 60 minutes or less!