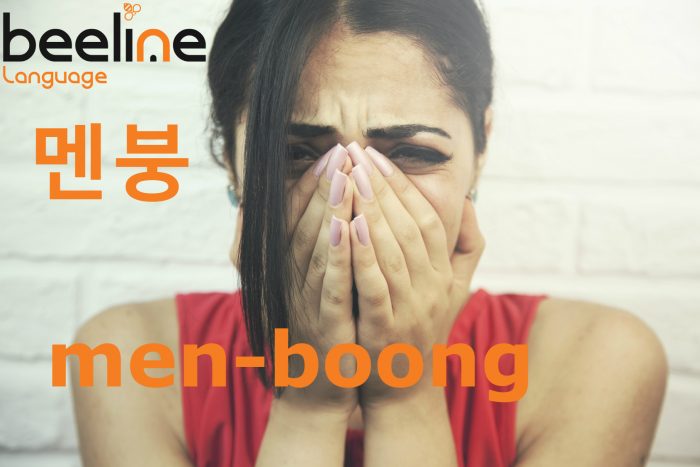 When you first start learning how to speak and write Korean, did you know that you would be coming this far? Learning all the cool slangs like 싱글족, 모태솔로, 솔까말? Well, we would like to keep the ball rolling, and learn more slangs that many Korean people use today. Today, you will learn how to say Emotional Breakdown in Korean.
How to say 

Emotional Breakdown in Korean
This is how to say that you are truly disgusted in Korean: 멘탈붕괴 [men-tal boong-gue] or 멘붕 [men-boong]
The word 멘탈 is a literal translation of the world 'mental' in English. 붕괴 means 'demolished' in Korean. Therefore, the two-combination word will give us the meaning of someone having an emotional breakdown.
Sample Sentences Using Emotional Breakdown in Korean
나 어제 시험본 이후로 완전 멘붕왔었어. [na eo-jae see-heom bon-hoo-ro wan-jeon men-boong-wat-sseot-eo].
I had a total emotional breakdown after the exam yesterday.
진수는 지금 멘붕상태라서 아무것도 하지 못해 [jin-soo-neun ji-geum men-boong-sang-tae-ra-seo ah-moo-geot-do ha-ji-mot-hae].
Jinsoo is having an emotional breakdown, so he cannot do anything.
Many Ways that Emotional Breakdown is Used in Korean
Did you want to know that although 멘붕 is a slang word, it is actually used widely as an official word to describe an emotional breakdown. For instance, many K-Pop artists include the word 멘붕in their lyrics. Back in 2014, in their studio album 'Crush', a famous Korean pop band 2NE1's CL had a solo track named '멘붕'. Although the track did not get released as a single cut, the song was immensely popular among fans.
You have learned how to express that you are having an emotional meltdown in Korean, now you could tell them that you are having a 멘붕 moment whenever you are dealing with a crisis.
Happy Studying everyone!