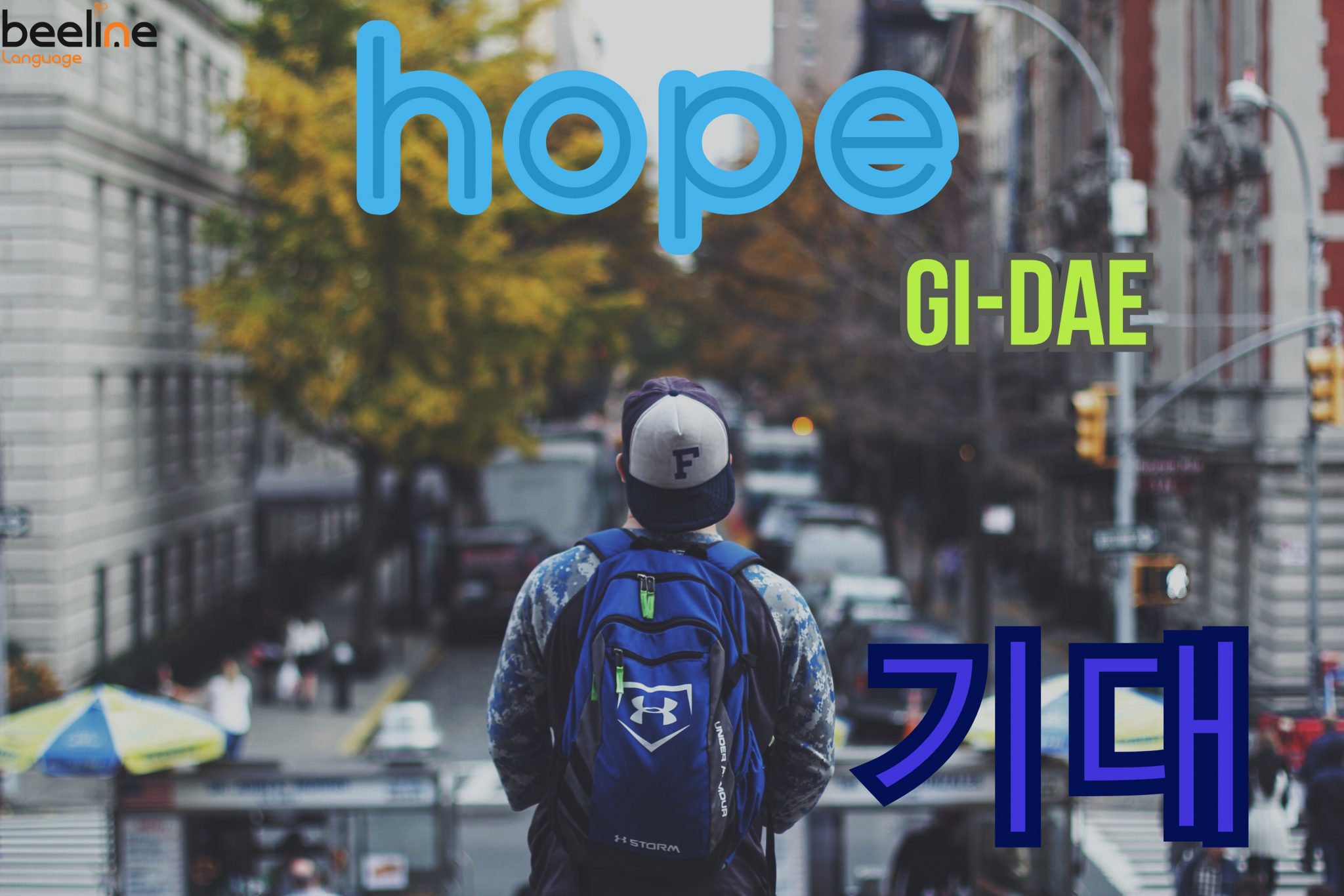 Beeline Language Korean introduces the students to the authentic Korean culture and real-world everyday Korean words. In our previous lessons, we have learned many different slang words like beginner [cho-jja], fiery Friday[bulgeum] and very fun [ggul-jam]. Also, we have covered a lot of words that are popular among the young Korean generations today. You know how to say fighting in Korean now, and what it really means in the Korean culture.  Today, you will learn how to say Hope in Korean.
How To Say Hope In Korean
This is how you would say Hope in Korean: 기대 [gi-dae]
Sample Sentences Using Hope In Korean
무언가에 대한 기대를 져버리면 실망도 큰법이다. [moo-eon-ga-ae dae-han gi-dae-reul jyeo-beo-ryi-myeon sil-mang-do keun-beob-ee-da].
When you lose hope on something, the disappointment is out to be great.
Note that 실망 [sil-mang] is disappointment in Korean
너무 큰 기대를 하지는 마, 아마도 안될꺼 같애. [neo-moo keun-gi-dae-reul ha-ji-neun ma. Ah-mah-do ahn-doel-ggeo ga-tte].
Please do not have too much hope in it, it may not work out.
Other Similar Words To Hope in Korean
You just have learned how to say Hope in Korean. Did you know that there are more than one way to say Hope in Korean? Another popular word would be 희망 [heui-mang]. Also, many people would say wish in Korean is very similar to hope in Korean. 소망 [so-mang] or 소원 [so-won] is considered a good word for wish in Korean. There are more than one way to say hope in Korean, so if someone says 희망, instead of 기대, don't be alarmed.
Now that you know how to say hope in Korean, you could go ahead and tell your colleagues and friends about what you have learned today!
Happy Studying!
Related
ere to learn for free in 60 minutes or less! [/heading]