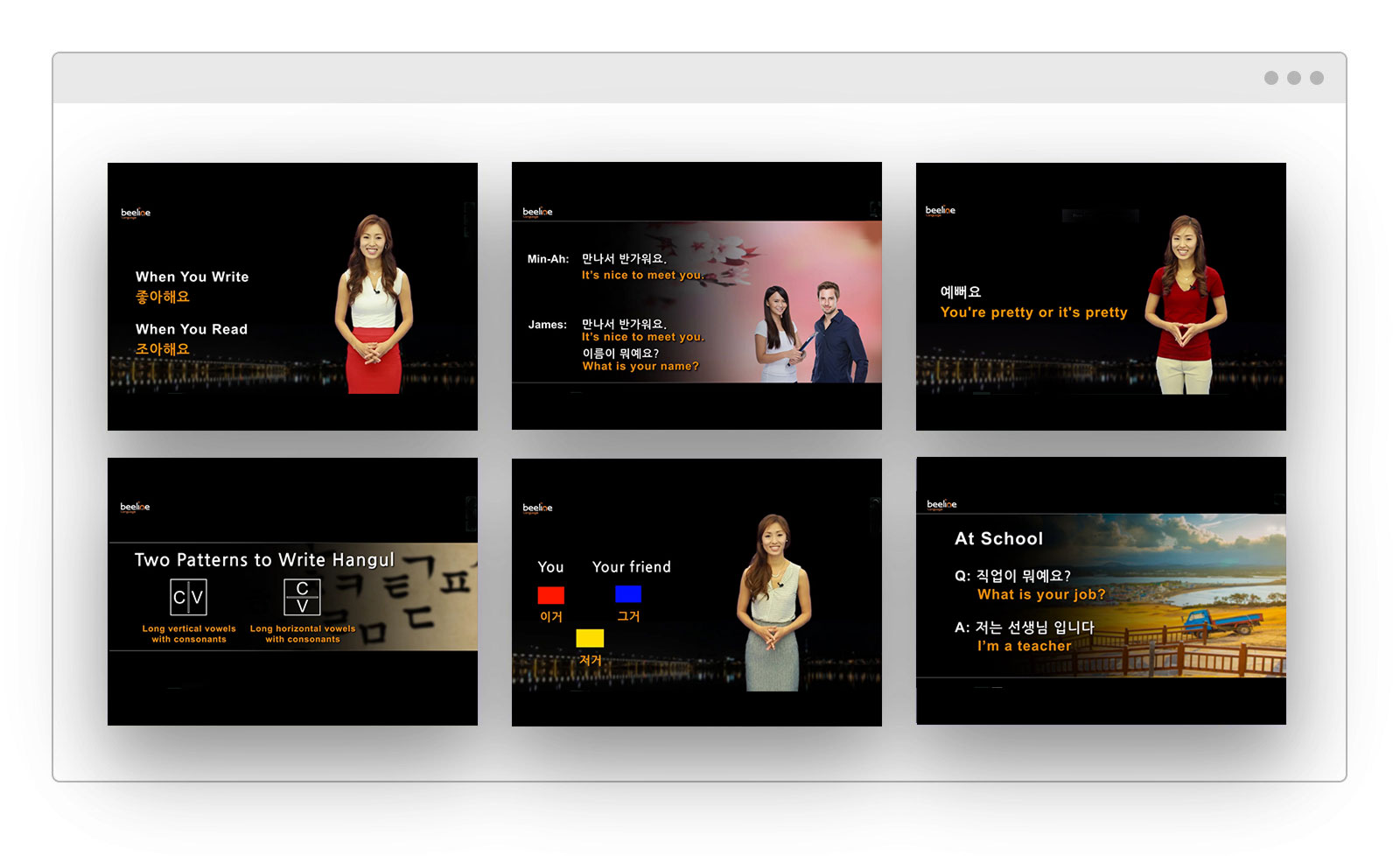 Start Having Conversations
We focus on teaching you the essential words and phrases to get you speaking conversational Korean right after the first video lesson. Our lessons will teach you:
Grammer & Expressions
Common Vocabulary
Reading & Writing Korean
Korean Culture & Nuance
We've made learning Korean as simple as watching a video.
Study Anywhere
Learn on your computer, tablet, or smartphone.
Study Anywhere
Take Beeline with you and access all lessons wherever you need them.
Start Speaking Fast
Start with 'hello' and graduate to speaking in full sentences.
Start Speaking Fast
Each lesson builds on the next. You'll be surprised at how much you learn in only 10 minutes a day.
Beginner To Advanced
Whatever your level of Korean, we've got you covered.
Beginner To Advanced
Our program offers 3 levels of learning: Beginner, Reading & Writing and Intermediate.
No Class Schedules
Study when you want to.
No Class Schedules
Skip the class schedule and start a new lesson whenever you have 10 free minutes.
Everyday Conversations
Learn Korean you can use everyday.
Everyday Conversations
Lessons are based around real life situations. We skip the ABCs and teach you how to have conversations.
Very Affordable
3 pricing plans to choose from.
Very Affordable
Our program is priced to work with any budget.
The Beeline Korean program was the perfect way to prepare me for my adventure in Korea.

Samantha R

USA
I would certainly recommend Beeline to anyone looking to learn to speak Korean quickly.

Joann Alsop

USA
The lessons are really interesting and fun to watch.

Josh

Canada
I love the teacher. She makes the lessons easy to understand.

Jamila Miller

USA
The Beeline Korean Program
Our program follows a structured set of curricula. Each lesson builds on the next, and guides you through three levels of learning. After lesson one you'll speak your first Korean words; at the end of level three you'll be able to speak, read and write in full Korean sentences.
Instant Access To Everything
PURCHASE WITH CONFIDENCE.
Includes 14-Day No-Risk, Money-Back Guarantee.
Want to see more?
Look inside The Classroom for FREE. No credit card required.